---
WSR Services
Alan Stone & Company, LLC and its affiliate WallStreet Research™ use a combination of various means to help emerging companies achieve these objectives:
Publish and distribute research reports, corporate profiles and newsletters.
Arrange Roadshows to enhance visibility.
Increase the brokerage community awareness of the Company.
Add to the number of active retail brokers.
Draw the attention of industry research report writers and analysts.
Enhance media coverage.
Attract institutional interest.
Attain greater liquidity.
Broaden the Company's shareholder-base.
Contact and attract quality market makers.
Raise sentiment and response by potential investors.
Provide focused investor intelligence.
Ensure the Company's Stock price better reflects performance and future potential.
Uplisting to NASDAQ, NYSE, or OTCQX Markets.
---
Research Reports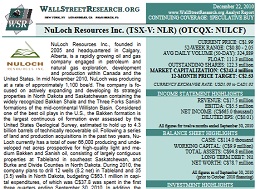 The demand is just getting started
Quality investment research can have a significant impact on the subsequent price and volume of covered stocks. WallStreet Research™ reports are presented in an easy-to-read section format.
The information is well-organized and covers all aspects of the business, including strategy, relevant competitive advantages, financial condition, market, products or services and competition, as well as the analyst's opinion on the future of the Company's stock performance.
Future demand is growing for emerging companies across many sectors on a global basis. We provide the global investment community with independent analyst research coverage of selected quality small cap stocks.
---
Corporate Profiles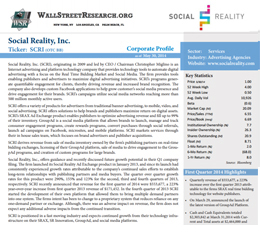 The answer to investor communications
WallStreet Research™ corporate profiles can have a significant impact on stock prices and trading volume.
Since establishing online presence in 1998 and substantially expanding distribution capabilities, WallStreet Research has reported on numerous emerging companies, enabling remarkable gain potential, resulting in one of the best track records in the small cap marketplace.
Whether your company is listed on the NYSE, AMEX, NASDAQ, OTC Markets, TSX, or other global exchanges, WallStreet Research™ will take your brand's success to the next level.
---
Corporate Newsletter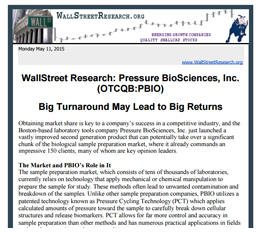 A targeted awareness solution
With its global following and proprietary database of investors, WallStreet Research™ has had significant success discovering undervalued companies and bringing them to the attention of the investment community in the past decade resulting in one of the best track records in the industry.
Our analytics can capture your message and better define your company's growth story, thereby creating substantial investor interest.
WallStreet Research newsletters are globally distributed online via our proprietary database and leading industry portals.
---
Interested in Initiating Coverage on Your Publicly Traded or Private Company?

Many publicly traded companies have more than doubled or tripled the market value of their stock, and greatly enhanced trading volume within a short period after becoming a client of WallStreet Research™ & Alan Stone & Company, LLC.
---
Attract Capital? Present Your Company at One Of Our Investment Roadshows.

Your company can benefit from being a featured presenter at one of our upcoming investment roadshows. Introduce your company to an exclusive group of pre qualified investment professionals, including investment bankers, investment analysts, portfolio managers, hedge fund managers, family office managers, top brokers and accredited investors.