---
About
WallStreet Research™ (WSR) is a top ranked independent research firm with a history spanning over three decades. WSR provides the global investment community with independent analyst research reports, corporate profiles and newsletters of selected quality emerging growth companies.

With the #1 ranking on Google, Yahoo and Bing search engines, WallStreet Research effectively initiates coverage on emerging companies that offer remarkable gain potential. This has resulted in WSR achieving one of the best track records in the small cap investment market place. Our distribution is extensive and global, far outpacing our competitors, due to our long history, superior brand name, extensive proprietary database, our #1 search engine rankings, and strong capital position.
Read More


---
Research Reports, Corporate Profiles & Newsletters
Research Services


---
Featured Company Update!

Mobi724 Global Solutions Inc. announces revenue growth of 707% for the nine months ended September 30, 2016 in this December 2016 Exclusive Corporate Profile.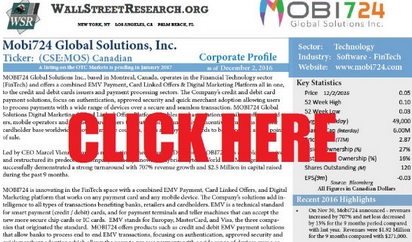 Mobi724 Corporate Profile